5 Year Anniversary Celebration Wrap-Up
It's been 5 whole years of eliminating stigma and removing barriers to care in Michiana!
Our Anniversary Celebration last week was an opportunity to not only celebrate MHAM's growth but also to celebrate our community partners and volunteers, we thank you for your unwavering support.
A Message from the Executive Director:
It truly is remarkable to celebrate our 5th anniversary and reflect on our incredible journey. Our anniversary is our chance to say a big "Thank you" to all those who have been our backbone along the way.  We celebrated our anniversary with our first Fundraising Event on August 30. This event was made possible through the hard work of our planning committee members, volunteers, and staff.  Thank you to our Event Sponsors, 1st Source Bank, and Pathways to Parenting and Table Sponsors: The University of Notre Dame, Oaklawn, Bowen Center, and Psych Pointe.  We set modest goals for this evening and are delighted that we reached our goal!  
When Heather Holleman and I Co-Founded Mental Health Awareness of Michiana, or MHAM for short, we had our eye on becoming one an affiliate of Mental Health America or MHA.  MHA is the nation's leading national nonprofit dedicated to the promotion of mental health, well-being, and illness prevention.  We knew that the mission driving Mental Health America aligned with what we envisioned for MHAM and that as one of the 150 affiliates, we would be able to leverage resources from the national office and learn from the experiences of other affiliates.  I am grateful to Shroeder and the national office staff for their encouragement and this special congratulatory message (link).  Whenever I attend national and regional Mental Health America meetings, staff at the national office and other affiliates ask about the projects we are developing and how they can help support our work.  One leader from a much larger affiliate told me that he joined our email list to learn from what we are doing.  We have been able to learn from successful programs around the country even as we adapt programming to respond to local needs and interests.
Five years have passed since the paperwork to become a 501c3 forming Mental Health Awareness of Michiana was filed and our bylaws were written.  Jim Kelly was our first board recruit since Heather and I were new to forming nonprofits and Jim had tons of experience and expertise. He stepped off the board when I transitioned to Executive Director, but I am especially grateful for his support.
I have come to learn that starting a nonprofit is a leap of Faith. You dive in needing to believe that somehow, all the effort is going to lead somewhere good and worthwhile and that funders will spring forth recognizing your value and the impact that you will have in the community. But, you really don't know.  The truth is that when we began, we had a vision that our work could help to eliminate stigma so that mental health would not be a taboo topic. We had a vision that our initiatives could bring equity and increase access to mental health care.  We knew that creating a pathway to move providers out of silos and into collaborative work would amplify any benefit to the community.  The specifics around how we would develop programming and who would pay for it, way back in 2018, were unclear. Certainly, we could not have predicted how real-world events, a global pandemic, an accompanying mental health crisis, and ongoing racial justice issues would impact our organization.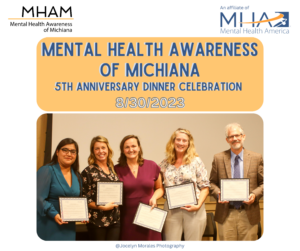 But then, we started meeting people who were aligned with our vision. We met with our bank at the time, Old National Bank, and Nancy Bean sat in on our meeting. Nancy was familiar with Mental Health America from her time on the board with the MHA affiliate in Ft. Wayne.  We immediately knew we wanted her on our board and she graciously accepted.  Marla Godette walked into my office and I knew in two minutes that I wanted her to join our board because of her passion for eliminating stigma in historically marginalized communities.  Same thing happened when Heather and I did an outreach meeting at La Casa de Amistad and we were introduced to Yessica Gonzalez Lawson.  We honor our Founding Board because they were exactly who we needed to get MHAM going, to do the work of the organization in addition to guiding and overseeing it.  
Mental health is a huge topic that is intertwined with every aspect of life.  We knew from the Mental Health America Ranking the States report had Indiana does very poorly by most measures of mental well-being and is in the bottom 20% for access to care compared to the rest of the country. So, we identified a few key program areas that we could focus on and that other affiliates could offer guidance. The first was providing education to the general public to make talking about mental illness less frightening, build understanding on what good mental health is, and when to seek professional help. The second was access to care. Anyone who has tried to get professional help knows how difficult, frustrating, and costly it can be. Making it easier for folks who historically are left out of the system to get care was something we felt we could address. The third pillar was around building relationships with the provider community. We knew that we wanted to be part of moving the community out of silos and into more collaborative approaches.
Our first Community Conversations on Mental Health and Barriers to Care back in 2019 validated those three areas but named so many more barriers. That early work gave us a good framework to guide our first five years and it led us through the pandemic.  The pandemic taught us to be flexible. Before the pandemic, we knew we had something valuable to offer. Once the pandemic hit, everyone was talking about mental health, the community was in distress, and opportunities to collaborate and build relationships began to surface.  It became clearer to everyone that mental health is interwoven into every aspect of the community. It taught us to be more inclusive of a wider variety of health and mental health concerns affecting community well-being.
We have been so fortunate with the number of individuals, community foundations, education, health and mental health organizations, and small businesses who have lent their support financially, sat on advisory and planning committees, spoke at our classes, webinars or events.  Three organizations, Beacon Community Impact, the St. Joseph County Public Library, and the Beacon Resource Center, stand out for their significant support to us as a young organization. Their alignment with our mission and their belief in us has been humbling. The programming that we have facilitated is a reflection of the diversity and goodness in this community.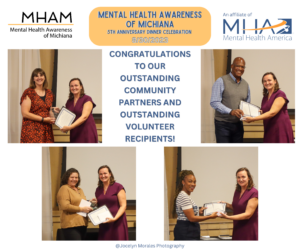 Our Pro Bono Counseling Project volunteer clinicians cannot get enough recognition.  The idea behind this project is that our mental health system leaves some people behind. 50% of people who need mental health care never access it. There are a variety of reasons for that but cost and lack of insurance are part of the problem.  This project uses volunteer licensed clinicians to provide short-term counseling to folks in the community who need counseling but do not have insurance or are unable to afford the costs connected to using their insurance.  Our volunteer clinicians are committed to equity and access and we are so fortunate to have clinicians like them in the community.  We honor Tonya Newton for her exceptional commitment to this project. We ask clients who have received services to give us feedback about their experience. The feedback that we get is touching and validates the potential power of the project.  One client wrote: "This program was truly a godsend and I could not be happier with who I was matched with. (My therapist) helped me in so many ways and I am beyond grateful that we were brought together! Thank you so much for the work that you are doing – so many people need mental health help, and thanks to you, more are able to obtain services."
At the same time as the pandemic, there was another crisis we all saw play out around the killing of George Floyd. The community distress around systemic racial injustice reminded us of historic wounds and reminded us of our duty to look at our own implicit bias and how it impacts the systems that we are part of.  We have embraced opportunities to include conversations about historic trauma, the impact of racism, and the ongoing trauma it perpetuates.  We have prioritized diversity with our educational topics and presenters to move toward including diverse perspectives that will ultimately build community well-being. 
In January of this year, we asked Megan Buell, founder of the Trans Resource Center in South Bend to give a talk for providers on Trans Visibility. Megan was straightforward, kind, and compelling as she shared her journey and was gracious with the many questions our attendees had. Participants commented afterward that they felt they learned how to be better allies to the Trans Community because of the talk. We lost Megan a month ago but I hope her legacy of building community, becoming good allies for each other, taking time to get to know each other, and support each other carries on. My takeaway from the brief time I had getting to know Megan was, not only that she was a great person, but that she had so much to share with this community. Everyone in this community has value and something to share and think about how much better off we all would be if we could recognize that in each other.
MHAM will continue to do its part. We are privileged to do the work we are doing. I am privileged to lead this organization.  We have some wonderful opportunities ahead of us that will allow us to build our infrastructure and will lead to meaningful collaborations, deeper relationships, and greater community impact.  We welcome finding ways to work together.  Thank you for your support.  Here's to the next five years!
A Message from the MHA President and CEO:
Schroeder Stribling, the President and CEO of Mental Health America, celebrates the accomplishments of Mental Health Awareness of Michiana, an Indiana-based affiliate of the National Office of Mental Health America. The organization has brought much-needed resources and services to the community since its inception five years ago. Over 2,500 people have attended provider education programs and public events, over 3,000 people have viewed videos on YouTube, and 500 people attended public education offerings. It has provided 400 people with free counseling sessions led by interns and clinicians.
Looking for a way to contribute to this cause? Join us in our journey by making a donation today!