November, 2022
We are pleased to announce Neil Gilbert, LCSW is the
MHAM Volunteer of the Month!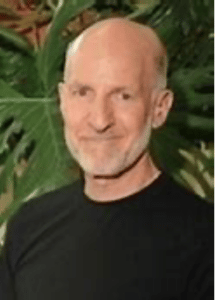 Neil is a volunteer with MHAM's Pro Bono Counseling Project (PBCP). The PBCP connects
individuals, couples, and families who are uninsured, underinsured, and unable to afford
the cost of mental health treatment with a volunteer, licensed, and insured mental health
clinician. Volunteer clinicians provide short term counseling at no cost to the client.
For Neil, participating as a volunteer clinician cements his value of taking care of the
community. Neil has a BA from George Washington University, his MA in Counseling
Psychology from the University of Notre Dame, as well as an MSW from Western Michigan
University. Neil began his clinical work in 1976, did community development work from
1983-1993, and returned to clinical work in 1993. He is in private practice at Neil Gilbert
Counseling & Healing. Neil has additional training and specializes in Family Systems
Therapy, Neuro Linguistic Programing, and Healing Touch.
Neil is married to Marianne. His son lives in Indianapolis and daughter in Asheville, NC.
He has 4 grandsons in North Carolina, one new baby granddaughter in Indianapolis. Neil
enjoys practicing reading Torah at his synagogue, taking winter vacations in Nice, France,
and taking care of an old house built in 1850.
Thank you, Neil, for your commitment to improving access to mental health care in
Michiana!
Interested in becoming a volunteer clinician?
Visit the MHAM website for more information: https://mhamichiana.org/volunteer
or send us an email: mha.michiana@gmail.com
To learn about eligibility or to apply to receive counseling services through the Pro Bono
Counseling Project, visit our website: https://mhamichiana.org/seek-assistance
We are grateful to receive financial support from:
Beacon Community Impact
Community Foundation of St. Joseph County
To make a financial gift to support MHAM and the Pro Bono Counseling Project, visit: